Cedar Executive Orders an additional Embraer Legacy 500
Middle East Airlines (MEA) confirmed today at the Middle East and North Africa Business Aviation (MEBAA) show in Dubai the purchase of a second Embraer Legacy 500 business jet for its private-jet affiliate, Cedar Executive. The second aircraft is expected to enter into service in mid-2017.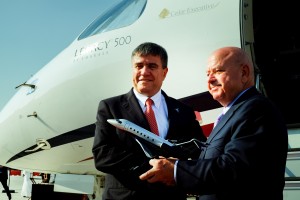 Cedar Executive is based at Rafic Hariri International Airport – Beirut. The company started operations with a brand-new Legacy 500 that was delivered in January 2016. Cedar Executive offers private-jet charter travel services for its customers along with FBO services including maintenance, hangarage and facilities for general aviation aircraft.
"Cedar Executive has exceeded their customers' expectation with a high end premium service in their very first year of operation. It is a pleasure to be part of this accomplishment by supplying the aircraft that combines the comfort, technology and performance desired for the ultimate travel experience", said Marco Tulio Pellegrini, President and CEO, Embraer Executive Jets. We are committed to offer the best customer service to support this continuing Legacy 500 fleet growth."
"Our aim at Cedar Executive is to provide our guests with nothing short of a world class and blissful experience. Our existing Legacy 500 has delivered that for our revered guests throughout the Middle East" said Fouad Fawaz Cedar Executive CEO. "The addition of a further aircraft is testimony to both the quality of the service Cedar Executive's guests experience, and the performance of these magnificent aircraft."
About the Legacy 500
The Legacy 500 has the best-in-class six-foot flat-floor cabin, which is comparable to those of some aircraft in the super midsize category. Eight club seats may be berthed into four beds for complete rest in a cabin altitude of 6,000 feet. The in-flight entertainment system consists of a high definition video system, surround sound, multiple audio and video input options, a cabin management system, and three options for voice communications and connectivity.
The Legacy 500 is the first midsize business jet with digital flight controls, based on Fly-By-Wire technology, featuring side sticks. The state-of-the-art Rockwell Collins Pro Line Fusion avionics suite on four 15-inch high resolution LCD displays allows graphical flight planning, and has options like paperless operations capability, auto brakes, and the E2VS (Embraer Enhanced Vision System), which includes a Head Up Display (HUD) with the Enhanced Vision System (EVS).
The Legacy 500 is capable of flying at 45,000 feet and is powered by two Honeywell HTF7500E engines, the greenest in their class. Taking off from airfields as short as 4,084 ft, the Legacy 500 has a range of 3,125 nautical miles (5,788 kilometers) with four passengers, including NBAA IFR fuel reserves.
06 Dec 2016
For your charter requests please contact Cedar Executive: [email protected]  ; tel: +961 1 622142